"At what age do you tell a girl that she can't be Wonder Woman because she is black?"
Jay Justice, one of the featured speakers at this year's New York Comic Con, asked this painful hypothetical question after recounting stories of strangers telling her she was being "disrespectful" when she chose to cosplay as characters like Scarlet Witch, Batgirl, or the aforementioned Wonder Woman. At the "Geeks of Color Assemble! : Minorities in Fandom" panel, Jay's story was all too familiar to other panelists and attendees, which is probably why the room was packed to overflowing with people getting turned away at the door. Celebrities like William Shatner, Gillian Anderson, and Sylvester Stallone might have dominated the headlines for New York Comic Con 2013, but the real story this year was fans challenging sexism/racism/homophobia within their own community, the lack of diversity in geek entertainment, and the media's continued portrayal of geeks as white and heterosexual.
Harassment of any kind at New York Comic Con was supposedly "not tolerated," but stories of sexual harassment and overt racism made the rounds on social media nonetheless. Diana M. Pho (a.k.a. Ay-leen the Peacemaker) shared a story on Tumblr about her encounter with the public access show Man Banter. Man Banter, previously reported by other media outlets as "Man Up Face Down," approached her and asked if they could interview her on camera for a TV show. The interviewer asked if she was a geisha and if he could pay her to walk next to him because he wanted to "buy an umbrella with an Asian girl." He topped off the incredibly awkward interaction with the comment that, "[G]irls who stand next to me longer than 20 seconds get a cream pie." At the time that the interview happened, Pho would have coincidentally been heading over to Room 1A17 to moderate the "Geeks of Color Assemble!" panel.
Diana Pho is a fairly well-known personality among con-goers, so her story spread very quickly through Twitter and Tumblr. People spoke out against Man Banter and contacted New York Comic Con organizers to see to it that they would not be allowed back at future conventions. Rather than just sit back and hope that the right people in power stuck to their promises, the geek community demanded action and sent out a message to other would-be comedians looking for cheap jokes at the expense of con-goers: This behavior is rude, it is wrong, and it has no place here at New York Comic Con.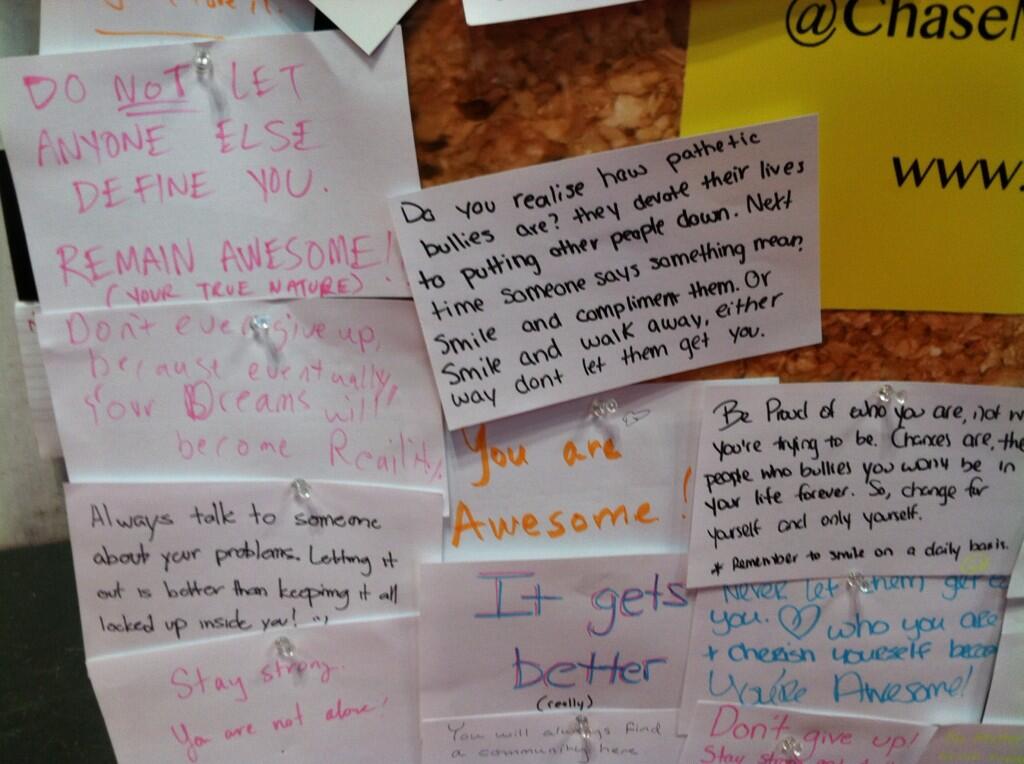 Even the official NYCC-sponsored anti-bullying and pro-diversity events couldn't have happened at all if con attendees hadn't actively participated. Besides the packed "Geeks of Color Assemble!" panel, the Pop Culture Anti-Bullying Coalition asked attendees to leave encouraging notes for victims of bullying and share their own personal stories. Positioned prominently at Booth 630 right inside entrance 3E, it was almost impossible to miss the wall of handwritten notes. One letter read, "I was bullied by the same person for 3 years, nearly nonstop. I have been there. You are NOT alone!" Another note confessed, "I used to be a BULLY!!! I'm sorry." Some people simply shared, "It gets better (I promise)." This wasn't signing a pledge or pinning on a colored ribbon but rather demanding vulnerability from its participants, and people were clearly not afraid of some healthy self-reflection.
In Part 2 of this 3-part series, fan respond to companies and creators failing to offer diversity in their characters. Which creators made excuses, and which ones are making changes?