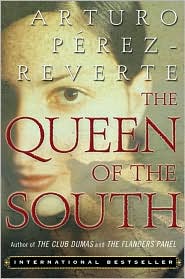 Score one for the bad guys, I guess. The Mexican Drug War has been dominating the news lately and apparently they're so evil they're even invading the Hollywood trades. The film version of Arturo Perez-Reverte's novel Queen of the South, which was to star Eva Mendes, Josh Hartnett and Ben Kingsley, has kicked the bucket thanks to death threats from a drug cartel.
In Queen of the South, Mendes plays Teresa, a Mexican drug smuggler's girlfriend who runs away to Spain when he is killed. There, she becomes involved with another drugrunner, Santiago (played by that great Spanish actor, Josh Hartnett... Wait, what?). Under his wing and gunning for revenge, Teresa eventually rules Spain's drug underworld.
The film was planning on shooting in Sinaloa, Mexico, known as the epicenter of the drug wars. The criminals there don't take too kindly of Hollywood folks making visits, so they've resorted to sending threats to the family of the film's director, Jonathan Jakubowicz, in LA.
"I have worked really hard to make this beautiful movie, but the safety of my family and my team comes first, and making this movie put us all at risk, not only in Mexico but in the U.S.," Jakubowicz told Variety.
Two of the film's producers have also backed out, citing "security concerns and a lack of focus." It's not the first production to receive threats from Mexican gangs, and it likely won't be the last.
Not that I was looking forward to the film or anything, but one thing I've always liked about movies is the industry's ability to take a cruddy real-life situation and shed some light into it, hopefully give a little "f--k you" to the bad guys.
Maybe the production company could work out a deal with the Mexicans the way Robert Evans and Albert Ruddy did with the mafia during the production of The Godfather, by hiring them as "advisors" and letting them approve the script. Not sure if that's worth it, though.