With Comic-Con so close on the horizon, we'll see a bevy of comic book/sci-fi/horror news exploding next week. In the mean time, there's still plenty of good stuff to gawk at, plenty of bad to balk at and weird stuff to keep you on your toes. The comic book movies in particular are starting to churn the hype machine, as we wait the official word from San Diego.
THE GOOD
• Digital Spy posted the first look photos from BBC's new Sherlock Holmes project have surfaced, featuring two very solid actors in Benedict Cumberbatch and Martin Freeman as Holmes and Watson, respectively. The idea of putting them in a contemporary setting is iffy at first, but the talent involved gets rid of the worries pretty quickly. Dr. Who writers Steven Moffat and Mark Gatiss are showrunners, with Gangster No. 1 director Paul McGuigan and frequent Dr. Who director Euros Lyn helming.
I love this quote from Moffat:
"Conan Doyle's stories were never about frock coats and gas light; they're about brilliant detection, dreadful villains and blood-curdling crimes – and frankly, to hell with the crinoline. Other detectives have cases, Sherlock Holmes has adventures, and that's what matters."
Unlike the Guy Ritchie movie, this is certainly a Sherlock I can get excited about. It's technically a TV series of three 90-minute episodes, which will air in the UK on BBC later this month, but hopefully we'll see them released in the US as a trilogy of movies, like the recent very similar Red Riding.
• Inception's comic book prequel is now online at Yahoo! Movies, featuring a heist dubbed "The Cobol Job" that paves the way for the movie's plot. You can read it here.
The comic is written by Nolan's frequent producer (and one of the writers of the Gotham Knights direct-to-video anthology) Jordan Goldberg, with art by the guys from UDON studios.
• After a couple of teasers in the past month, a full trailer for David Fincher and Aaron Sorkin's The Social Network is now out, and it looks fantastic. Jesse Eisenberg may have landed the best role of his career here, and how about that haunting Radiohead cover?
• This latest trailer for Scott Pilgrim vs. the World is a semi-featurette that explains the world of Scott Pilgrim to those unfamiliar with the comic book. It's honestly not that hard to grasp, but having it explained with visual aid should prove more exciting.
• Joss Whedon's Avengers movie is going to be a bit of a miracle movie, because it's got half a dozen leads, stars of their very own franchises, all coming together as an ensemble. It appears, however, that Whedon will have one less big star to wrangle, as Edward Norton—who was set to reprise his role as Hulk/Bruce Banner from The Incredible Hulk—has been dropped from the film.
The good news is that they've got a very capable replacement in Mark Ruffalo, as Deadline reported, who I personally think is a far better choice for Banner than Edward Norton anyway. In a team-oriented movie, they're going to need a nerdier, less active and less prominent Banner to balance the dynamic, and Norton may not be the right fit for that kind of role...
THE BAD
• ...The bad news is that the casting of Ruffalo comes in the heels of an unattractively public back-and-forth between Norton's camp and that of Marvel Studios. First up, Marvel's Kevin Feige released a statement to HitFix announcing Norton's drop with some innuendos towards Norton being difficult to work with and a lack of confidence in him wanting to work with an ensemble. As a result, Norton's agent responded angrily at the insinuation, calling Feige "mean-spirited" and "unprofessional, disingenuous and clearly defamatory."
Norton himself had to do damage control by writing this open letter to fans on his Facebook page.
Despite my enthusiasm for Ruffalo, this definitely puts a kink in Marvel's long-term planning of making a series of movies that build up to The Avengers. Whatever they pull off is still going to be an impressive feat, but losing even one player does ruin the illusion a little bit, and doesn't earn them as much bragging rights as it could've been. Let's just hope none of the other Avengers drop out too.
• Speaking of Marvel, the Thor movie is trying its best to dampen my enthusiasm, isn't it? It's got a very exciting director in Kenneth Brannagh at the helm, a solid cast, a sufficient build-up, and yet the costumes are, shall we say... Well, what the hell is this? This official photo of Thor, Odin and Loki make it look like they're trying to compete with Joel Schumacher.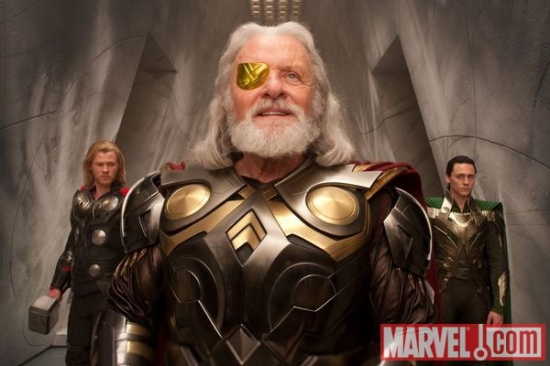 • Pixar, I love you—but can you go back to producing original ideas? Toy Story 3 was a welcome diversion, but that should be it, right? Why would you want more Cars, other than the fact that it's John Lasseter's pet project? Never mind that it's still the sprained horse in Pixar's stable; so far, Cars has spun-off a series of shorts starring Larry the Cable Guy's Mater, while Cars 2 is in development as Pixar's next output. Now Movieline reports that Pixar is developing a direct-to-video spin-off of Cars called... Planes. Nothing left to do but to wait for the inevitable Trains.
• And the weird costume choices continue with Entertainment Weekly's debut of Ryan Reynolds' superhero costume in Martin Campbell's Green Lantern. As previously reported, Reynolds doesn't wear an actual outfit during shooting, because GL's costume is completely CG. This makes sense, since the Green Lantern outfit is a creation of the power ring.
But the idea of making him a glowing green Naked Man? A little weird. It's certainly not as goofy as the above Thor costumes, but it doesn't inspire the best confidence, either. Green Lantern will have a presence at Comic-Con next week, so we'll see if the costume looks better in motion.
• Because the world needs more Avatar: James Cameron's blue opus will return to theaters on August 27th, 2010, but only on IMAX 3-D and Real 3-D theaters. It's not just a re-release, though. It's also a new cut that brings 8 minutes of new footage. It's even longer than before!
To quote a wise friend: "I wish they would go the other direction with these things sometimes. Like... AVATAR... Now eight minutes shorter! Now Avatar is better than ever because we've taken out eight of the crappiest minutes out of the original theatrical release!"
THE WTF
• Over the weekend, I was giddy to receive an email announcing Tommy Wiseau's presence at next week's San Diego Comic-Con for a project called The House that Drips Blood on Alex, a horror parody of some kind. Atom Films has released the teaser for it, which is just hilariously unnerving in the kind of way Tommy Wiseau is best at.
• It gives me great joy to know that Casey Affleck's documentary of his brother-in-law Joaquin Phoenix's descent into Lovecraftian madness career change has, at long last, finalized a distributor and release date. The idea of this thing even reaching an audience is mindboggling to grasp, but it looks like Magnolia will give it a theatrical release on September 10.
Called I'm Still Here: The Lost Years of Joaquin Phoenix, this is either a needlessly elaborate mockumentary; one of the worst cases of method acting ever captured on film, lasting nearly two years now; or it's going to be a sad look at one actor's disintegration of his own image. Given that the film reportedly features footage of Phoenix snorting cocaine and getting defecated on, it's more likely a combination of all three. I can't wait to see it.
• I just about died laughing when I saw this. Universal Designs has made a leather motorcycle suit out of Tony Stark's Mark V Iron Man suit from Iron Man 2. For only $1,099, you too can look like a tool on your favorite bike. It's definitely not as cool as the Batman one.
• Production Weekly tweeted that the Wachowskis' secret project is finally casting, and that it's called CN9. This, I believe, is that hush-hush war movie that they shot segments with Jesse Ventura and Arianna Huffington for, which came to be known as the "gay Iraq War movie." The description is not entirely inaccurate, but it is a little off-base. When Deadline reported the completion of the script a couple of months back, they described the script as "a drama that focuses on a "hard R" homosexual relationship between a U.S. soldier and an Iraqi. It's a cinema verite-style treatment that begins in the near future and then spans back over years that include the current war in Iraq." Sounds like a blockbuster, for sure.
Actually, if Jesse Ventura's recollection of playing a three-eyed, dreadlocked anti-Iraq War ranter is accurate, this project has echoes to the delicious madness that was Southland Tales, so to imagine something like that from the shroomy minds that gave birth to the ballsy Speed Racer... Oh, man, gimme.
• This fanmade trailer for The Expendables being circulated around the web cracks me up. It's not only a call to arms for men to take Hollywood back from female-dominated movies (since when?!), but it's also unapologetically homophobic ("...the only men you're allowed to love...") while being muscle-sweatingly homoerotic, no matter how much gunfire it uses as a beard. Still, this is arguably the best way to market this testosterone-injection of a movie. It's already better than any of the official trailers.
Kind of reminds me of this: